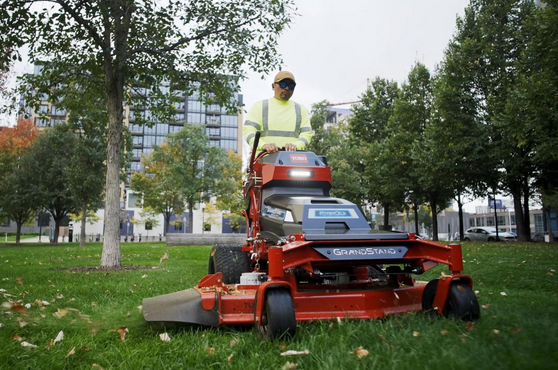 This is a new ELECTRIC line that Toro is offering to the market !
Toro features that the GrandStand Revolution is the most capable mower they've ever created. It features a 10MPH max ground speed, up to 7+ hours of run time and a 18.7 kWh 8 battery system.
Here are some more great features about the Revolution series:
Precision Handling– While delivering an unmatched level of control, the GRANDSTAND REVOLUTION allows you to control different aspects of the machine. You can increase blade-tip speed, independent of your ground speed, allowing you to cut with greater precision and straighter lines.
Power– GRANDSTAND REVOLUTION is part of Toro's most powerful line of mowers. With tons of readily available torque to help you power through the day, you can say goodbye to engine droop and bogging in tough turf conditions.
Durability– Built on the same incredibly tough and durable platforms as Toro's industry-leading gas-powered models, it features a strong I-beam front end and the same full 7-gauge steel TURBO FORCE deck with a bullnose bumper. All with a warranty to back that up for peace of mind.
Adjustable Deck Rake– Maximum run-time and performance by customizing the deck rake to best suit the conditions. Increasing the deck rake will help extend the run-time of the machine by allowing more clippings to exit the rear of the deck when mulching.
Horizon360 Software– installed that allows you to check charging, machine tracking, scheduling, and billing management.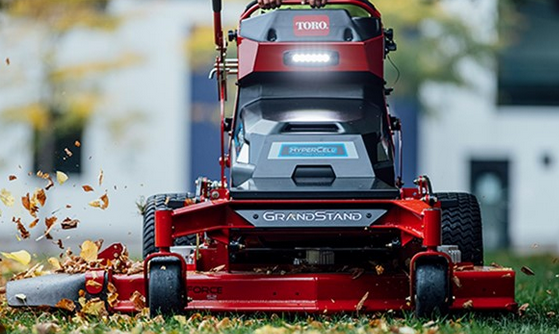 You may be asking, why should I go electric? Here are some great reasons to consider:
Noise emissions below the most restrictive municipal noise restrictions- great for horse farms!
The Revolution Series electric line-up allows you to extend operating hours and increase productivity.
Offers precision cutting and all-day range.
Low maintenance and a low-mount battery system for confident terrain capability
Save more money long-term than with a gas mower. It takes 23 months to break even and there you can save approximately $178 per month when using electric compared to gas.
The Toro Grandstand Revolution starts at $33,999.00. Toro offers financing and other incentives as well. Don't forget that if you are an active participant in the equine industry, you can save more on a new Toro mower!
These mowers are a perfect addition to your horse farm because of its low noise emission, productivity, reliability, and low maintenance costs.
Source and Photo Credits: https://revolution.toro.com/grandstand/